Effective Team Leaders Delegate
Guest Blog Post by Deb Bixler 5/3/2012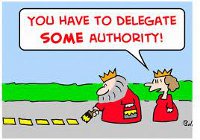 In a direct sales business, there is a lot of responsibility and tasks that need to be done to keep the business running smoothly. When the business first starts out, the consultant may be able to handle it on her own. But as the referrals keep rolling and the business starts to grow, the consultant will find that she needs help to keep the business going.
When it comes to delegating responsibility, there are a few tips that a sales consultant can use to make sure that the quality of the business does not trail off as the responsibilities start to grow. It is important to remember that just because the business is growing and you need to delegate some of the responsibilities, that does not mean that you should start to lose touch with your own company. You should have your finger on the pulse of your organization at all times.
– Keep a Detailed List
In a direct sales business, keeping lists is critical to your success. When you hand off responsibilities to other people, be sure that you keep a list of what responsibilities you delegated and who you gave them to. If you do not keep a comprehensive list of the tasks that you delegated, then you will have a difficult time keeping track of your business.
– Set Deadlines
Don't just give people responsibilities; you should also set deadlines for them to meet those responsibilities. For example, if you have someone that orders stock for you, then make Friday the deadline for all orders to be placed so that you have product in time for the next few events. Without deadlines, you are just making suggestions and not delegating responsibility.
– Have Consequences
When you ask someone to help you with your growing direct sales business, you cannot assume that your assistants have the same level of dedication that you do. When you delegate tasks and set deadlines, be sure that you also create consequences for people who do not meet their goals. Consequences mean more to people when you are paying them for their services. It helps you to make sure that jobs get done when they are supposed to.
It is not always easy running a growing direct sales business, but it can be extremely rewarding. When the time comes for you to delegate tasks to assistants and other people in your organization, be sure that you know how to delegate with authority.
Deb Bixler is a home party plan business coach who teaches systems that create success in any party plan business.