Lessons On Leadership From Tim Tebow
Guest Blog Post by Karl Mecklenburg 2/15/12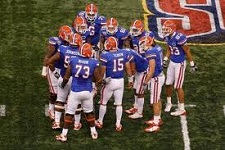 Like a great many others in Denver, Colorado, I am a big fan of Tim Tebow. It's not just the way he comes back from behind and wins, or his fervent Christian character or even his overall toughness, both mental and physical. I'm a fan not just because of his fourth quarter "miracle" plays, or his unfettered enthusiasm or his team first attitude. It is the example in leadership through the blending of these characteristics that he sets for his team the Broncos, for the state of Colorado and even for the world.
Cynics point out that Tim Tebow was hardly able to take a snap from under center without fumbling the ball. He has terrible footwork and his throw inconsistent. Tebow's pass completion is less than 50% compared to top NFL quarterbacks at 70%. True, true, true, and yet the Bronco's were successful beyond expectations.
It's important to realize that every person is part of at least one team. You can see teams at work among our families, neighbors, friends, business associates. They are in our churches, schools, and even our cities, states and countries. As a speaker on leadership and teamwork, I am always on the lookout for ways the direction of a team can be changed by the actions of one person.
I have come to see teams similar to a child's teeter totter, with the team leaders on one end and the team "egos" on the other end. The remainder of the team, what I call the "uncommitted", are balanced in the middle. The success of the team can be changed from success to failure just by changing the tilt of the see-saw from the leader side (success) to the ego side (failure). As the see-saw tilts in one direction or another, the folks in the middle who are uncommitted will tilt in the same direction. The momentum builds and builds toward either failure of the whole group, or success.
The Denver Broncos already had leaders on the team like Champ Bailey and Brian Dawkins before Tebow came to forefront, but the Broncos were mired in mediocrity. Egos were in control. Lack of expectations of success and the resulting me first attitudes were entrenched in the team psyche.
When Tim Tebow's leadership ability came out, the Bronco's teeter-totter tilted to the leader's success side – and the entire team went with it. True, Tebow is not as accomplished as other NFL quarterbacks, but his leadership ability is powerful. Just listening to his teammates confirms that the players are engaged in it as a team now, both on and off the field. Tebow has demonstrated how to be a team leader in a great way through his unwavering commitment to winning and his all-encompassing and addicting enthusiasm.
Members of teams quite often reflect the traits of their leaders. Tebow's teammates adopted his never say die approach and clutch fourth quarter play making. When they could have complained about not catching passes, Bronco's receivers chose to accept the new "run first" offense and concentrated on blocking and protecting on run plays. Big sacks and fourth quarter interceptions were contributed by the defense which helped win games. Teammates celebrated and were delighted in their accomplishments. Some even took a chance by talking about their faith in interviews after the game.
I admit, I am a fan of Tim Tebow. But more than that, I am an advocate of great leadership, and the positive change a great leader can inspire.
Karl Mecklenburg is a past NFL All-Pro and is currently a keynote speaker committed to inspiring long term and positive change in teams and individuals. He is one of the many accomplished Leadership Speakers you will find on MotivationalSpeakersWorldwide.com.