Inspirational Speaker Lani Starr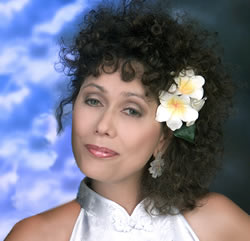 Awakening Your Writers Voice:
Writing is an expression of our inspired inner voice, the beautiful visions derived from our solitary dreams, which brings heaven to earth. For within every soul there is the voice of an artist just waiting to be unleashed …
The Empowered Voice
Lani will discuss the connection between harmonic vocal power and personal/spiritual power (mana). She will offer tips for all of us to uncover more of our innate potential to have wealth, health, inner peace, and happiness, through the power of the harmonic voice.
The Energetic Entrepreneur
Lani has a successful coaching and performance career, along with being involved in book, movie, and music CD projects. How does she do it all? She'll offer tips on how to put it all together and keep it all together as you follow your passions.
The Healing Power Of Song
Lani will discuss her experience as a Healing Music, Smooth Jazz, New Age, Devotional Music performance artist who has worked with many of today's most celebrated motivational, inspirational teachers and Grammy Award-winning artists. She will share her insights into the benefits of combining Eastern yogic sound patterns, Hawaiian wisdom, and angelic chants, as they relate to the health and wealth of the mind, body, and spirit.
Powerful, Compelling Communications
It's often said that it's not what you say, but how you say it. Lani will demonstrate how a voice that is not tapped in to its natural harmonic power can communicate unwanted messages – and how a voice that is balanced harmonically can express a compelling and captivating message, magically opening us up to a world of unlimited success and happiness in all areas of our lives.