Guest Blog Post by Robyn Wheeler 2/23/12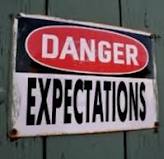 Are you a perfectionist? Does everything you do have to be flawless? How about your expectations of others? Are you disappointed when your spouse, coworker or children fail to do things exactly the way you do? If so, you are causing your own frustration and anger not to mention extreme harm to your loved ones.
How? Because no one is perfect and no one performs tasks exactly like you do. When your spouse doesn't fold clothes like you do and an argument ensues because you told him or her that they didn't fold them "right," the argument is your fault, not theirs, due to your unrealistic expectations.

Read more...